Since this is a film journal, I might as well toss in some remarks about films and directors that have recently taken an influence on me. I had heard about the French New Wave in film (circa 1960) but hadn't seen any of these films. I knew that they were very influential to many other directors, but since I never went to film school and they never seem to be shown on HBO or have them at Blockbuster Video, I've never had the chance to see any of them. My girlfriend works at a library and she has access to all sorts of obscure crap, so she was able to find a VHS copy of "Breathless" by Jean-Luc Goddard and "The 400 Blows" by Francois Truffaut.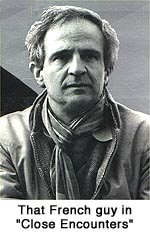 So here's how my (ignorant) mind works: Since these were French films, I thought they'd all be about humping. (I saw "The Last Tango In Paris", I liked it. French girls always wear black, fishnets and berets, so they like to hump..right?) :-P With a name like "The 400 Blows" it figured it must've been an early fetish video. I knew who Truffaut was, he was the French guy in Steven Spielbergs "Close Encounters of the Third Kind." I also knew he did those early fetish videos back in the 60's. (or so I thought)
It was amazing how shitty "Breathless" sounded and looked. I guess this was a real indie film of it's day, and it's kinda hard to see what was so original about it with our modern day eyes. Jump cuts galore, shakey camera, rambling dialogue about who slept with whom. I guess you've got to imagine your seeing it in 1960 when it came out. 60's film critic: "Jesus..what moron would use jump cuts, shakey grainy camerawork with weird dialog that didn't advance the plot?" :-)
The 400 Blows is about KIDS? Jeez! I was hopin' we would actually SEE the 400 blows to someones face, neck and head. (French boxing movie of some sort?) Apparently each "blow" is a metaphor of lost innocences to childhood. Anyhoo...the movie was good (for something that came from 1959.) I can see why Spielberg was so into Truffaut. Truffaut loved to make movies about kids. (Not dopey, Hollywood type kiddies, but kids with real-life attitudes.)
After watching these two films, I would have to agree that these guys DID do something that was advanced for it's time. (Like I said, when you watch them now, it's hard to see what was so special, EVERYONE does what they did first back then.) Therese grabbed a book on Francois Truffaut called "Truffaut on Truffaut," it's created out of quotes said by him during his lifetime. (He died in 1984.) Lemme toss off a few at you that I thought were relevant to what I've learned during filming:
The young director must not say to himself: "I'm going to try to get my foot into this redoubtable industry by making a compromise between what the producer wants and what I want, by pretending to cook up for him the comedy or detective film he expects but sticking to my own little ideas." etc., because with that reasoning you're lost in advance. You need to say to yourself: "I'm going to knock off for them something so sincere that it will be howling with truth and of a formidable force; I'm going to prove to them that truth pays off in hard cash and that my truth is the only truth." I mean, the young director must be convinced that he should not work against the producers nor against the public but that he has to convince them, bowl them over, seduce them, put them in his pocket. You have to be desperately ambitious and desperately sincere, if the enthusiasm you felt while shooting is to communicate itself in the showing and win over the public. The starting point must be the principle that any constraint you accept gets you only aridity and insipidity , whereas if you love what you film, the public too will probably love it. But isn't all that obvious?
Francois Truffaut, Arts, 1958
I believe that an idea that pleases an artist will by definition displease the public. Why? Because the artist is someone OUTSIDE society and addresses himself TO society. So what it amounts to is imposing your own originality on people and not falling in with their banality. Yes, you really have to say things as they are. It's a work on conviction, and the whole undertaking becomes a match with people.
Francois Truffaut, Tele-Cinema, no 341, October 1966
He [Jean-Loc Godard] has killed off, all by himself, the two or three worst things I know about the public: polite indifference, vague interest, amused condescension.
Francois Truffaut, L'Avant-Scene Cinema, no 70, May 1967
But I am sure we have all ended up adopting Andre Bazin's mayonnaise theory (films that "take" or don't take) because the practice of cinema has taught us a certain number of things: