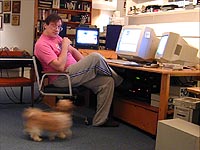 I've been editing away for the past month and I'm starting to get some interesting results. I while ago I got all 8 rolls of film from Cinepost in Atlanta. I was relieved that see that practically everything was in focus and I had no major technical screw up of any kind. The focus had pulled forward on a long shot of John Horrigan as he does his fart spiel in the first office scene, and a close up of Johnny talking at the coffee shop was un-useable. Out of 8 rolls of film, that's about it. (Note: since most of the set-ups were done in ONE TAKE, I usually only had 2 shots of coverage for any one thing. So if I lost ANYTHING, I'd be hurting when it came time to edit.)
I was forced to shoot some double-perf film instead of single-perf for the final portion of the Amanda party sequence. This was transferred slightly blown-up so the offending sprocket holes wouldn't appear in the frame. That stuff looked reasonable. (I still have to go back and re-shoot that little sequence if I want to ever strike an actual film print.)
I also sent off the last of nightclub sequence with Beth Lahr. That came back and everything looked fine 'n dandy. (Woo hoo!) Well, except for the fact that I lost the audio for 4 takes on that roll. During the shoot the DAT was left running, and when we rewound the tape, we went back too far and missed the spot where we left off. 4 takes gone. Mercifully they were only of close ups of Johnny, so I was able to steal the audio from the reverse angle on Beth.
I now have large chunks of the film assembled. I edited the nightclub sequence together and that cut together very well. It was amazing how much the background music/ambient has alot to do with "selling" the illusion of a busy nightclub. When we shot in there, it was dead silent except for the actors talking. Listening to the scene "dry" just doesn't have the appearance as a legit environment. I tossed on some quicky background noise and music and vola...one busy nightclub! I've shown the sequence to a few people and they commented that it looked like an 'actual movie!' I still got laughs when the scene was taken out of context from the rest of the film.
I've been getting laughs from the cow sequence that's intercut with the Amanda party with Kim Lannon. I still need to add background ambient to that. The beach scene came together nicely too. The sun kept popping in and out during filming, and I thought that it would looked totally screwed up when cut together. Luckily I had all my close-ups in sun, and the longer shots without. By cutting on some action and reversing angles, you don't really notice it much. Since the close-ups were strung together, they all matched so it wasn't really an issue.
As I've been editing the sequences together, I've started to slam some transitional music into the mess. These are basically up-beat rock tunes that I like from a bunch of different sources. One great source has been the Internet. I've been scouring all the MP3 sites on the web (IUMA.com, MP3.com, Boston.com, Lycos.com) for tunes that I like. There are A TON of bands out there, unsigned, with already recorded music looking for exposure.
The problem is, there are just too many unsigned bands that are just plain mediocre, and since any nitwit can post their stuff...they usually do. Since I have a cable connection, I can tear through about a hundred songs in a night. I download them, usually listen to the first verse/chorus (if that) and go, "ack...NEXT!" I've found the ratio for interesting to bland to be about 100:1...easy. At times I've felt like e-mailing most of these people and going, "What the hell's the matter with you? You think your crap is any different from the shit's that already out there already? Do something DIFFERENT...PLEASE!! Smash your guitar, drop your speakers, make funny noises...ANYTHING."
So far I found a guy called Scott Acomba with his band called 'Satsuma'. (I'm gonna use his tune "Blue Rinse Poodle" during the nightclub sequence.) A band called 'Fernachur' (from Vermont) has a tune called 'Fuzzyhead' which works as we leave the coffeeshop for the nightclub. I'm also pursuing some bands that had great tunes a while ago, but have disappeared from public view. Two Boston bands I've got lined are The Atlantics and Dumptruck. The Atlantics had a song around 1981 called "Lonely Hearts" which got a ton of airplay around Boston, but was never released nationally. Dumptruck had a song called 'Back Where I Belong' (circa 1986). I've had to plow through many websites and e-mails to find the authors of these great songs. I can only imagine what a music lawyer would be charging me to find these guys.
At the moment, all of the musicians have at least given me a verbal go ahead on using their stuff. I have no idea what the formal contract will look like, but I'm hoping everyone will agree to a percentage deal if/when this project ever gets sold. I've heard that securing music rights to all your songs is vital if you want to get a distribution deal, so at least I'm half way there. Since most of the music I'm seeking isn't 'signed' but wants their stuff to get heard, I'm hoping that that is half the battle.