Well this was a bitch. It's certainly easier to conceive of this shit verses trying to film what pops out of yer little head. I thought it would be funny to write a scene where EVERY romantic cliche was crammed into one ridiculous scenario. What's that? Long walks on a beach at sunset, romantic dinners by a fireplace, violinist serenade and a surprise balloon delivery...all in one location. Problem was I then had to FILM this fucker.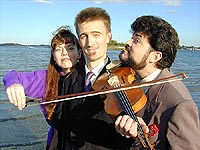 First problem was finding a location. It was October, so I knew we wouldn't have to fight with any crowds at any beaches. We wanted to get some sort of permission to go there, because it would've sucked it some cop had shown up and started to ask questions. Dan had done some earlier scouting down the south shore near Boston. We both took a drive out there earlier in the week to choose a final spot. We found a small secluded beach in Houghs Neck, Quincy. We also spot a cop near his cruiser just over the sea wall. What better person to find out who we need to contact to film here. I sick Dan on him...Dan will approach ANYBODY. We find out that this mother lives in the house where he was parked. She also works at the town hall and knows the guy who is in charge of the beaches. Great. Just as we are leaving, Dan decides that he has to go back and ask one more thing. I wait in the car while he pounds on the cop's mother's door for 5 minutes. "Can we use your bathroom when we film here?" he asks. Jesus Christ..I couldn't believe he did that. I was worried if he might go as far as requesting a meal for the crew once we were finished. Dan and I both had a laugh at how ballsy he was at approaching strangers. Pity any poor film distribution company that tries to ignore him once this project is finished. Anyhoo...even though we got permission to use the beach, we still would've snuck on and got the shots we needed if we didn't, just maybe not THIS beach.
I also needed a violinist. Who could play sappy music like you would hear in a restaurant, come to a beach in October AND not be paid? A couple of people apparently. I had posted an ad on an electronic bulletin board associated with the Berkley College of Music in Boston. A few women violinists had offered their services, but everyone felt that it had to be a guy. (To fit the typical profile, and the fact that Lauren would end up screaming at this person on a beach.) The one male who responded, Jonah Shue, actually plays sappy violin music in Italian restaurants in Boston on the weekends! He was a cool guy who plays all sorts of music. He also did some great expressions during the rehearsal. Perfect.
Next, a fireplace. At first I thought, "how am I going to get a pile of bricks on the beach?" I found this paneling that looks just like bricks at the Home Depot. Built a flimsy box out of it with the right sized hole for the logs to sit in. In a rush to get everything done, I ended up painting the inside of my fake fireplace black the night before. Because it was a drizzly night, I immediately took the still wet panels inside. My girlfriend Therese, who was sleeping two floors up at the time, was awoken by the fumes. The whole house stank.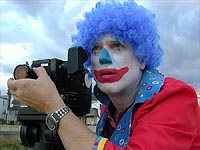 On the way down to the location, we picked up a rental clown outfit and a dozen balloons. We got to the location around 2 pm. I knew we had light until 5:30, but after that is when the sun would really start to set. It was a cloudy day, so the sun kept peeking behind a cloud for a few minutes. We were trying to match the light from shot to shot, so we had to wait until we had direct sunlight. Of course we didn't have our lines down pat, so we had to rehearse the scene a few times to get up to speed. I played the clown who makes the balloon delivery on the beach. I had Therese put my clown makeup on when I got there, so I was giving orders in clown face the whole day. (Very surreal I was told.) I bunch of local 12 year old kids had spotted me and the crew on their beach. They decided to hang out, watch and make noise. Therese then switched to crowd control to keep the quite while we filmed. She told me that they wanted to "kick the clowns ass." (Just because you feel compelled to at that age.) I must've looked like a big guy, I was wondering if they thought a 235 pound clown would've given them some resistance, or are all clowns pussies in the eyes of a 12 year old?
Couldn't believe it, we had three lousy shots left, and this cold front rolls in and covers the entire horizon with the sun behind it. We were shooting almost all the way closed in the direct sun, and we finished the day shooting all the way open in the fading light. Christ. Hopefully the shots will at least match somewhat. On the final shot of the day, we filmed Johnny walking away from the scene of this tragedy as I walk off camera in the other direction while letting the balloons go. Dan rolls camera, I start to walk, let go of the balloons, walk off screen, turn around and see a bunch of the 12 year old rodents trying to catch the balloons WHERE THE SHOT WAS TAKING PLACE. Those little fuckers. Dan didn't think they ran into frame before the shot was over. If they did, there would've been a couple of missing child reports in the town of Quincy that day.
| | | | |
| --- | --- | --- | --- |
| Gang on beach | Johnny w fireplace | Lauren & Johnny | Lauren w script |
| Jonah on beach | Beach LS | Clown with camera | Cold front clown |