Horray! Today was the last outdoor sequence we needed shot. I had originally hoped that all of these would have been completed by the end of summer, but I didn't have enough money to buy the necessary film and processing at the time. If you notice from the photos, if was jacket weather, but we were trying to make it look like it still September.
Note to indie self:
Make sure to pay the next cast and crew, so when they start to look miserable on a cold day with their jackets off (to match a scene shot earlier in the year), you won't feel so guilty about having them trying to re-create this bullshit you thought up.
In this scene, Geoff and John confront Mongo, the person they think is the computer hacker who has been harassing them for the entire story. Shortly after writing this scene, I started thinking "who would be good for Mongo?" The biggest guy I know is Brian White, a 3D computer artist who's done a bunch of computer games and other things for TLC and the Discovery Channel. The joke here is that the biker dude LOOKS fierce, but he's actually a nice guy in person. Brian is one of the nicest persons I know, a real comedy movie buff and intelligent. Why go to central casting when I've got the people who I know I will enjoy working with around me already?
I then needed a motorcycle and a location. Brian already had a bike, but it was one of those Japanese import models. (i.e. "a rice shitter") Geoff had mentioned that he knew of a neighbor with a "colorful past" who had a large Harley Davidson. (i.e. "a hog") This person agreed to allow us to film at their place and use his motorcycle.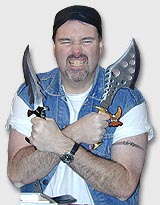 John, Geoff and I paid a visit earlier in the week to scout out the location. The owner was the nicest guy. We all got some extra cold beers, heard some great stories, played with his dog, fixed his computer and admired his substantial knife collection. I knew that I needed to build a Mongo website, so that Geoff and John can learn of his identity. I was hoping I could take some pictures of Brian looking tough with a bunch of biker dudes and post them on this website. When I saw all the knives, I knew I could use these to make Brian look like a "real nutcase" (as noted by John when he discovers his website.) We had a bunch of fun with Brian making him sneer and looking tough while posing with all of this cutlery.
A technical concern was the fact that my light was going to disappear by 4 o'clock. Tony Annesi was to arrive around 3 pm from his last karate class, so I only had an hour to get what I needed with him. When we first started filming, I had direct sunlight on John and Geoff, and by the time Tony arrived, it was starting to get dark and cold. I yanked off the 85 filter half way through filming to get a couple of more f-stops. (Kodak 7274 asa 200) I'm pretty sure those guys at the transfer place can match the color between the sequences. I guess we'll hafta wait and see.
| | | |
| --- | --- | --- |
| Mongo at home | Mongo & crew | Janet biker chick |
| Mongo & Tony | The entire gang | Mongo makes toast |