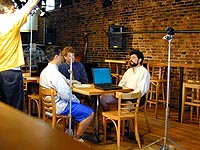 Today was "get everything friggin' shot that we need at Wonderbar." I basically had three scenes with all the guys huddled around the table. If I had tried to shoot everything in order, where we finished the first scene, then moved onto the next, I think I would've had 13 lighting set-ups to do in something like 4 hours. (Ain't gonna happen.) Tried another approach; light for one angle, and have everyone change their clothes to match whatever scene they were doing. This way I only had to light four times, but got three scenes done. (Cookie-cutter approach.) I know I said earlier in this journal that having actors change costume takes just as long as re-lighting a set-up. I was wrong. If you motivate your actors, (by telling them that they'll have to be there longer) they'll listen. :-) Actually, everyone just needed to switch their shirt tops. Easy enough. The other reason why I only did close-ups, was the fact that we had no one there as extras on the set!
We did come up with one thing sort've on the set a few days earlier. We shot the scene where Johnny is reading his personals ad to everyone around the table. ("Seeking anyone from a Lesbain biker chick to a transvestite nympho.") The original ending to this scene was everyone shaking their heads and saying something like "well, if this doesn't work John, you can always turn gay." We noticed at rehearsal earlier in the week that it just sort've sat there. (i.e wasn't funny) The line was similar to something that Todd/Horrigan's character said in an earlier scene. ("You can always punch the munchkin!")
As mentioned earlier, Phil had previously weilded a "rubber ass" around the set for a few days, just to get a reaction out of us. Just for shits 'n giggles I said, "Wouldn't it be very silly if you THREW the rubber ass on the table..BANG!..and ended the scene there." (If you haven't figured out what a "rubber ass" is, it's basically a rubber vagina.) Well, we did it. I believe the two reasonable-headed persons on the set objected to such an object making an appearance in this movie. Fuck it, it's much more of an interesting ending than just, "well...you always can turn GAY." :-P
I have to admit, my fortitude wavered a bit. We shot the "rubber ass" with and without panties. (It wouldn't make much sense if Phils character throws a clothed sexual device on the table and announces that he's solved Johns problem.) I guess we'll hafta see what's "right." Hey, if the Farrely brothers can have a big fleshy dildo waved around in a few scenes in "Me, Myself and Irene" and get an R rating...I can certainly flash a rubber labia for 10 frames in this movie.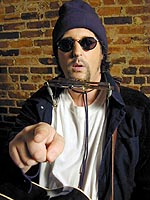 My buddy Eric Scott Bloom came back from Arizona for a few weeks, so we slammed out some shots of him playing guitar in a little carpeted area near the piano. He sang, "Wake Up Everybody I'm In Love!" (played for the first time outside of my house at 3 am.) and "Ty Cobbs Filthy Athletic Supporter" (only five bucks to see it) on camera. Johnny and I have known Eric Scott Bloom (a.k.a Woodrow T. Justice) for a very long time now. (Back when we didn't have children, girlfriends or pot bellies.) I did a live cable TV show in Dedham, Massachusetts called "The Woodrow T. Justice" show. We basically pushed him into a dark TV studio, popped a couple of lights on him, then sent him out live to the town. He solicited phone calls from residents, did highly charged political banter and took requests. (All of which he had no clue on how to play, but that didn't stop him.) Eric's been making his living from his artwork, which you can see here at his website.
| | | | |
| --- | --- | --- | --- |
| Bloom window | Bloom w camera | Woody CU | Men in shorts |