Kountree Kampinn Resort Campground - Naples, FL
Eric: So we were bitching about staying at the Naples/Marco Island KOA campground a while back in one of our videos. Now that we've stayed at the Kountree Kampinn, we take it all back. This place was built in the 60's, when RV's didn't have slide outs. This explains why everybody is so close together. I guess the place did have a very "Kountree" feel to it when back in the day, before Naples decided to grow outwards. The final patch of "Kountree" was just outside the camp to the North, but that is now a huge medical facility.

In summary: Nice people who run the joint, nice people who stay there, good sense of community but think shoe horn when maneuvering and basically avoid trying to get in here for one lousy night.

On The Road With The Dacrons - Kountree Kampinn @ 4:25
Velma: We've stayed at a lot of RV campgrounds both in and out of Florida, but this is the first time they've ever had to mutilate a tree to accomodate us. It's also the first time we were woken up at 9 a.m. by a bull-horn wielding old lady riding around in a golf cart announcing breakfast. And hot dogs. And shuffleboard. And ice cream.
Most of the the people there live there at least part of the year or are regulars who return on a yearly basis, so there's a real sense of community. Of course, it helps if you're over 65 to enjoy the amenities of the community. Also, I thought only KOA used a "K" ("Kozy Kabins", etc.) all the time. Sheesh!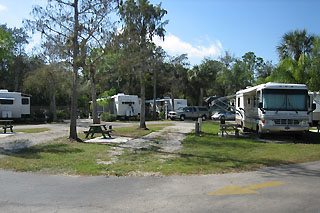 The few pull throughs at the back of the camp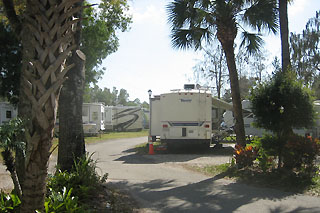 Spot 402 - Don't stick your arm out your window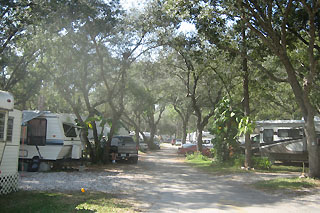 Kountree Kampinn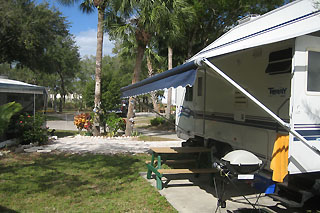 Good ol spot 402
Website
:
Kountree Kampinn Resort
Address
: 8230 Collier Blvd, Naples, FL
Phone
: (239) 775-4340
GPS
: N 26º 06.196' - W 81º 41.223'