OK, so it looks like I'm the last person with a copy of this video, so I guess I'm obligated to upload it for posterity. (sorta like everyone who remembered a book in Farenheit 451)
I first saw this video sometime around 1985 on the USA network. (before MTV had a lock on showing videos) Apprently it had a cult following and was requested a lot during that time period. I saw some article someplace that described how the USA networks' Nightflight show was getting all these massive requests to see this strange video, then that was it. Never heard or seen it again, thus I bought a store copy for myself. To get our courage up, my friends and I used to play this video before we went out drinking while tormenting women with our pickup lines. (Don't ask why...whatever worked, worked.) The many drop outs you see in the beginning of this video are from that era.
Tony Powers is an actor who's had a few roles in such movies as Goodfellas. You also saw him recently in Catch Me If You Can as the NY Savings Bank manager. I guess he's also a singer. If anyone has any other info on Tony, please send it along.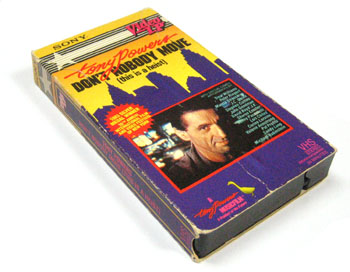 A few years ago, I had mentioned this video in some online forums, and had received some requests if I could send these people a copy of this video. Never got around to doing it until today. (October 2006) The vhs tape has three music videos: Don't Nobody Move (This is a Heist), Odyssey and Midnite Trampoline. It reads:
1983 Silver Medal Winner, 26th Annual International Film and Video festival of New York. With Special Cameo appearances by: Treat Williams, Peter Riegert, Maarcia Strassman, J.C. Quinn, Stephen Collins, John Goodman, etc. etc.
Don't Nobody Move (This is a Heist)/Odyssey: Film Producers: Tony Powers/Brian Owens. Directed by: Brian Owens, Script: Tony Powers/Brian Owens, Cameras: John Harhay/Mik Cribben, Lighting: Mathers Katz, Edited by: Tony Powers/Vaughn Hazell.
Total length: 24 minutes.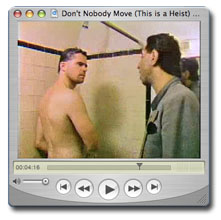 Don't Nobody Move (This is a Heist).mp4 (320x240 15 meg)
Download this better version than the YouTube version in .mp4 format. (quicktime probably needed) The YouTube version was compressed from THIS version, so grab it yer fussy about your video quality.
For you people completely clueless, RIGHT click on the link above and SAVE the file someplace. Jeez.
Tony Powers_Dont Nobody Move.mp3 (6 meg)
Download the .mp3 audio version. It's taken from this same source, but I ran it through a sound editing application and removed some of the tape hiss and EQ'd it a bit.
I'M NUTS AND WANT THE BEST DAMN QUALITY!
You've come to the right place. I've got a 640x480 full screen version in .mp4. (46 megs)
E-mail me and request the link!